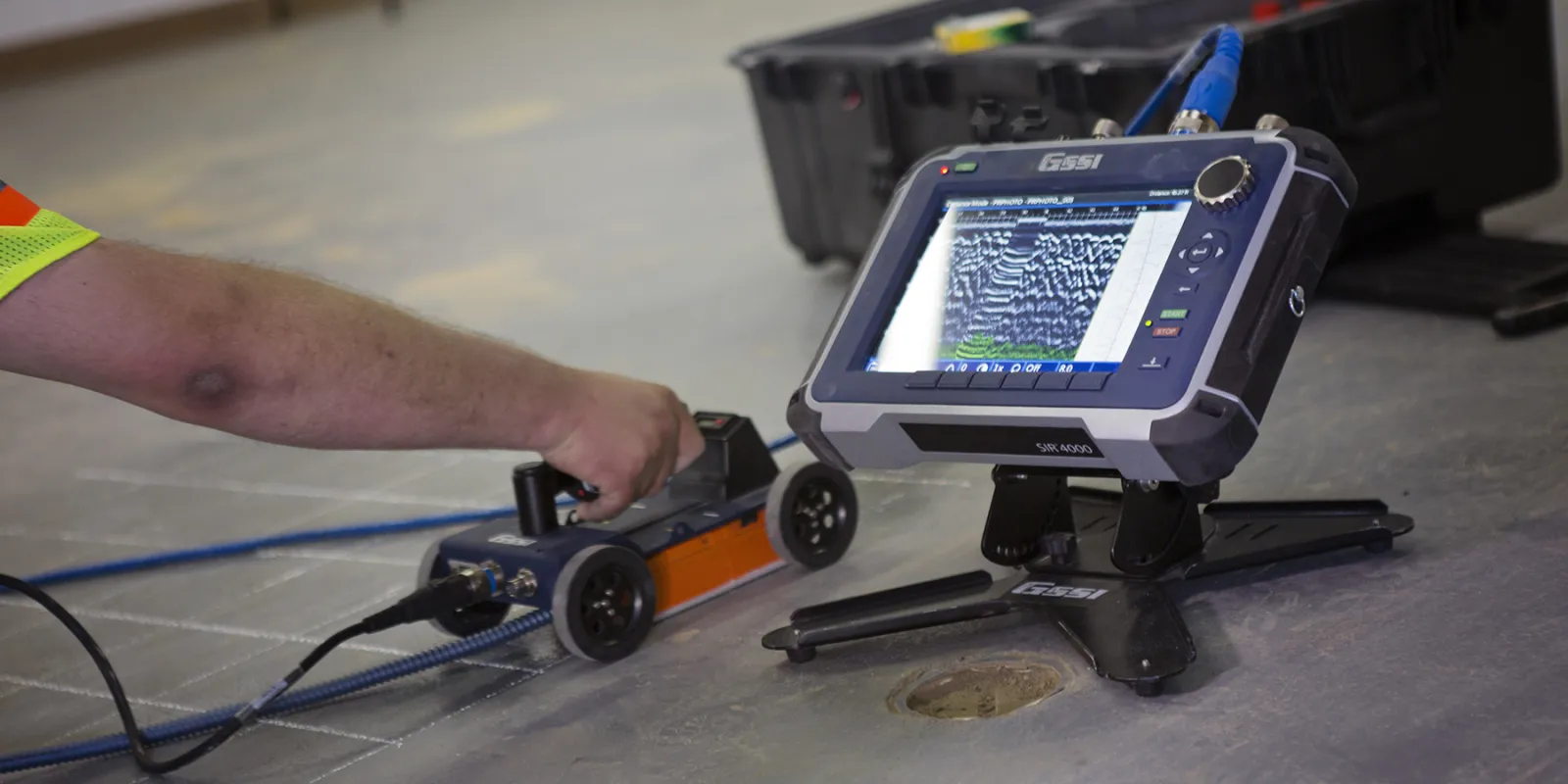 Critical Data
At Your Fingertips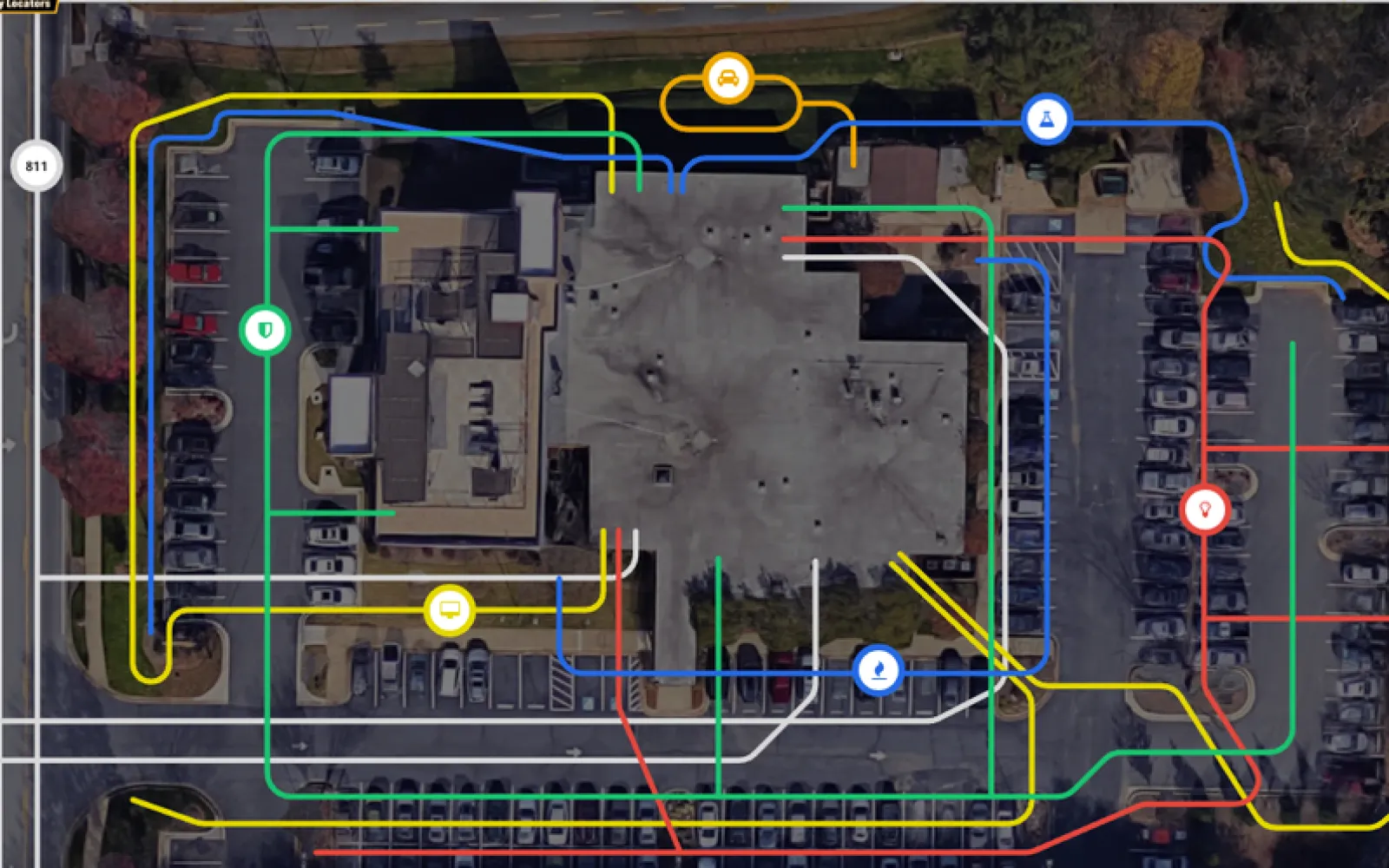 1
Safety
Organized, complete records of your service data are critical when it comes to project planning and execution.
2
Regulatory Compliance
Be audit-ready at all times with detailed, complete service records.
One-Time Services
That Keep Delivering

An investment in better understanding your infrastructure with precision locating technologies pays off over the lifetime of your assets with "Gold Standard" deliverables from Blood Hound. Below are examples of deliverables you can count on - and what you should expect from anyone performing these services on your sites.

1
Private Utility Locating
Specialized equipment and training is used to detect and mark ALL underground utilities and structures, particularly hard-to-find private utilities not covered by 811.
Deliverables:
Detailed job ticket information
Complete, accurate on-site flag markings
Site photos
Completion Report, on-site, same day*!
*completion reports not available same day on select projects, based on scale/scope
2
Ground Penetrating Radar (GPR)
Electromagnetic waves are sent into the ground to produce real-time visuals of facilities that can't be located by traditional methods.
Deliverables:
Detailed job ticket information
Complete, accurate on-site flag markings
Site photos, post-completion
Site sketch
KMZ File
Completion Report, on-site, same day*!
*completion reports not available same day on select projects, based on scale/scope

3
Vacuum Excavation
Using vacuum excavation, you will ensure underground facilities are not damaged, and you can clear more exploratory holes, especially in cold or difficult soils.

Deliverables:
Detailed job ticket information
Site photos
KMZ Files
Completion Report
4
Sewer Camera/Cross-bore Mitigation
Technology allows you to thoroughly investigate obstructions in your lines to devise safe, educated solutions.

Deliverables:
Detailed job ticket information
Real-time visualization, on-site
Complete video footage, post-completion
Still shots of obstructions or areas that indicate compromised asset integrity, post-completion
Locations of obstructions or compromised areas, post-completion
PCAP Report
Completion report
5
Concrete Scanning
Concrete floors and walls often contain plumbing, conduit for fiber optic or electrical cable, and rebar and tension cables. Our advanced concrete scanning services can detect and protect existing utilities and structural supports in concrete.
Deliverables:
Detailed job ticket information
Real-time imagery, on-site
Still shots of obstructions, post-completion

Precision sketches of obstruction locations, post-completion
Completion Report, on-site, same day*!
*completion reports not available same day on select projects, based on scale/scope

Project Deliverables
What they are - and what they mean, to you.
Job Tickets

COMPLETE WORK ORDER INFORMATION DETAILS
Job tickets or "work orders" are a common deliverable; Blood Hound uses complete, detailed records to ensure efficiency on our projects, but also as a point of reference for your records.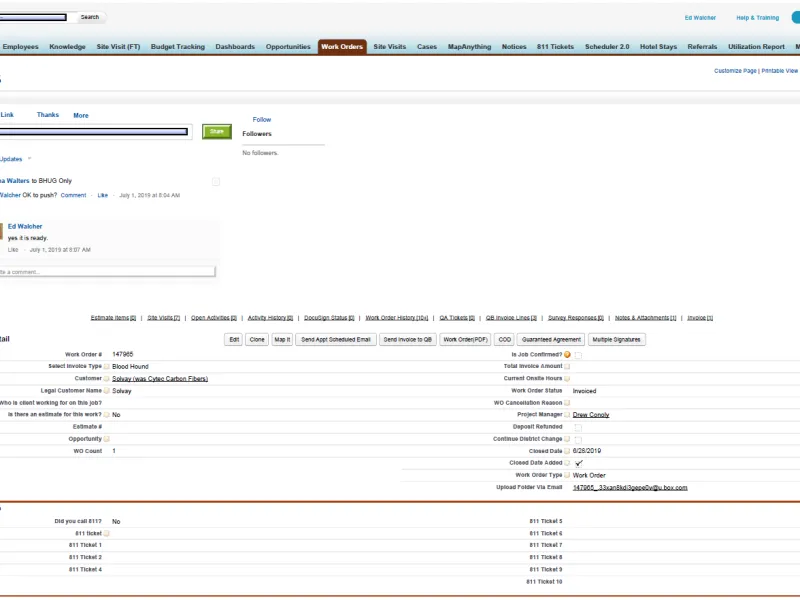 1
Basic Information
Company and Contact Directive Job Site Information
2
Project Overview
Complete Scope of Work Services to be Performed
3
Project Details
Granular information and directive for each respective service to be performed.
Job Site Photos

Every site - every time.
Contrary to industry best-practices, Blood Hound supplies job site photos from every site - every time. It's a simple step that we take to help you better understand your site, your mark outs and reports, no matter where you are. Job site photos add an additional layer of protection to mitigate future liability for your organization.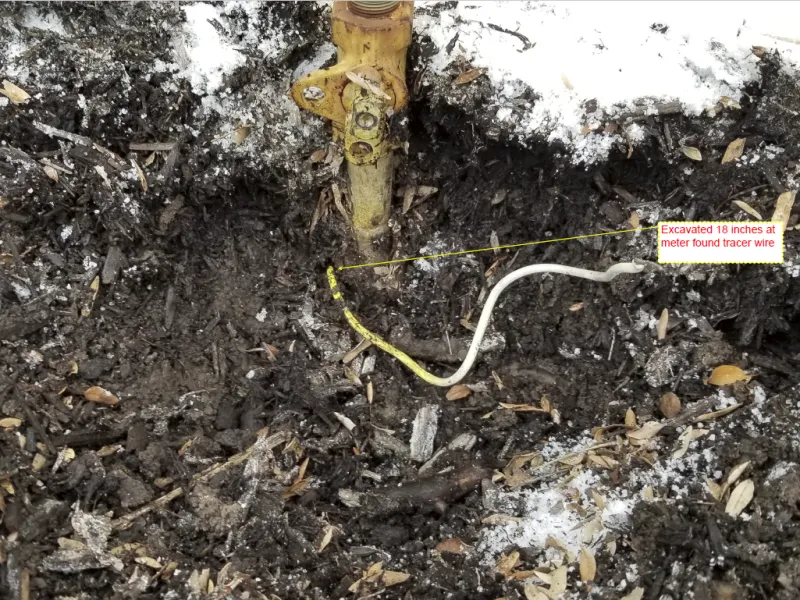 1
Minimum Requirements
Blood Hound requires our technicians to take a minimum of 15 photos at every job site, capturing your site from different angles, to tell a complete visual story.
2
Visual Confirmation
Documented, visual confirmation of utility and site conditions now - and in the future.
3
Metadata
Metadata from job site photos can be critical in proving the validity of photographic evidence in matters of liability for the future of your assets.
Field Sketches

Property blueprints are often lost, incomplete or outdated - believe us, that's fairly common. Sometimes referred to as "site drawings" or "maps," detected utilities are highlighted and labeled.
Better understand the complexity of private utilities, as part of overall underground infrastructure, with our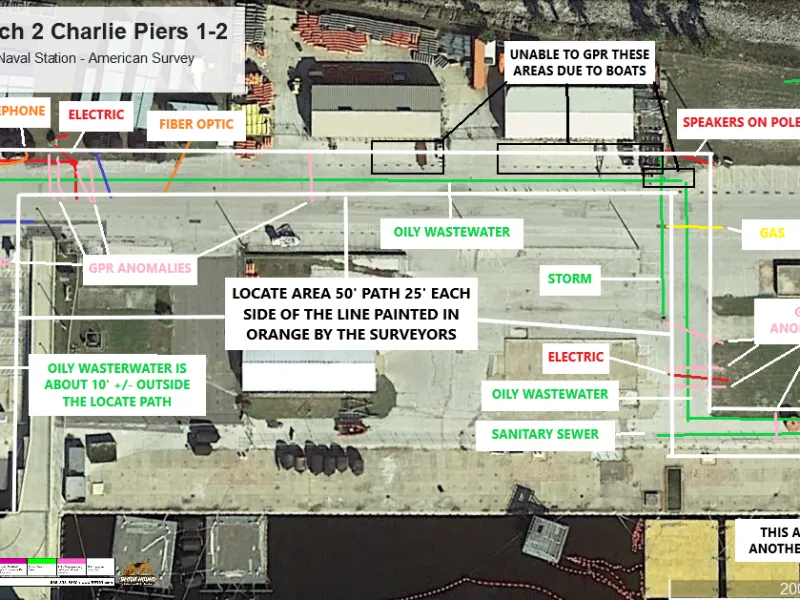 1
Regulatory Compliance
Outdated maps can create problems with 811 ticket fulfillment. Not only will our precision sketches make excavation on your sites safer - it can help you stay compliant!
2
Anomalies
Deviations are recorded to indicate anomalies from supplied drawings, that do not align with our findings, to provide you with a more accurate picture of utilities present.
3
Client Portal
Convenient, secure access to our digital repository for your critical project data.
Radar Trails

See What Can't Be "Seen"
Beginning with plotting a basic grid-pattern of your site, technicians are able to detect and map a spiderweb of untoneable subsurface facilities: these are radar trails.
Try your hand at mapping unlocatables with our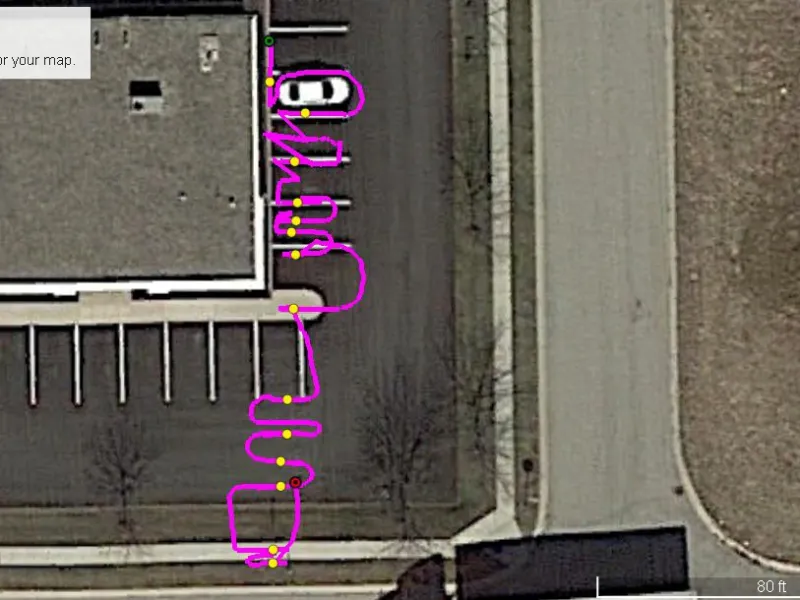 1
Unlocatables
It is also used for the utilities that cannot conduct a current so it will not be able to be picked up by the EM locating.
2
Examples
• Septic Tanks • Fire Lines • Chilled Water Lines • Irrigation Lines • Low Voltage Control • Wire Private Alarm Wires
3
How It Works
GPR technology plots out a grid sending electromagnetic waves into the ground, which are then reflected by subsurface structures or utilities. Using these reflections, technicians are able to follow and underground facilities.
KMZ Files

What You've Been Waiting For
(Waiting for info and image from Juan) Why WOULDN'T we give you KMZ files from our services?? It's YOUR data - and it can make ALL the difference.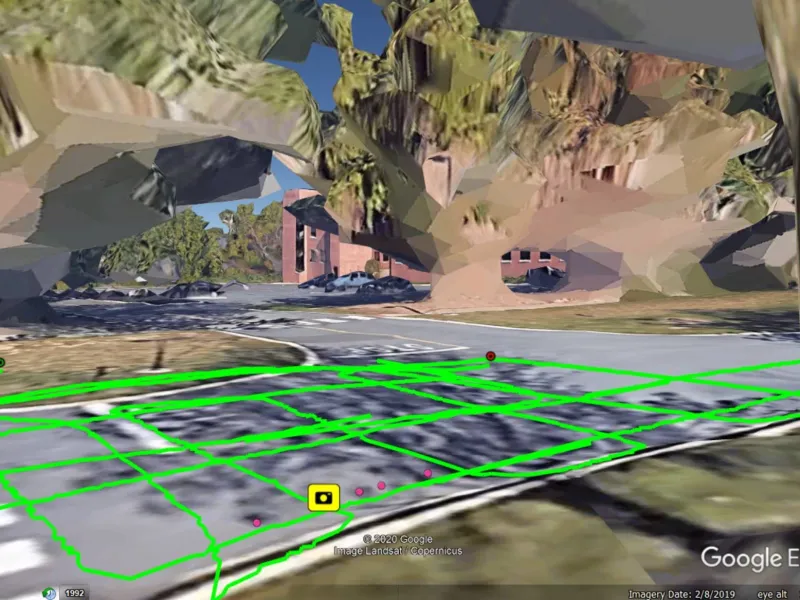 1
Google Earth
KMZ files can contain placemarks featuring a custom name; the latitudinal and longitudinal coordinates for the location, and 3D model data.
2
Team Work
KMZ files are widely used by project teams to access and coordinate detailed information with precision accuracy in mapping applications.
3
Utility Depth
KMZ files allow teams to see not only where utilities are, but approximately how deep they are.
Screen Shots

These types of images are very typical to communicate where utilities are detected - but how are you supposed to read it??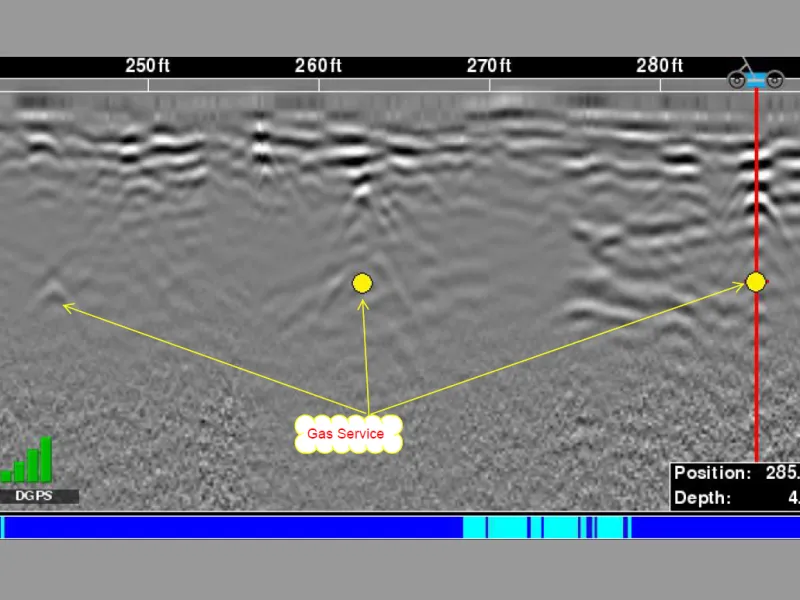 1
Science
Voltage is like pressure, it pushes the current down the line. The greater the flowing, the greater the magnetic field. The more amps applied to the utility, the greater the signal.
2
Methodology
Technicians work to overcome the Ohms (resistance) by controlling the frequency to accurately locate your facilities by monitoring signal activity on their equipment screens.
3
Application
Ripples on the screen are flags on your site. You can compare the linear footage markers where the ripples appear on your screen shots to the flags on your site for a better understanding of how the two compare.
Camera Services

Sewer camera deliverables offer an unparalleled level of accuracy in detecting and identifying obstructions. Know exactly what you are dealing with - and exactly where it is.
"See" for yourself with our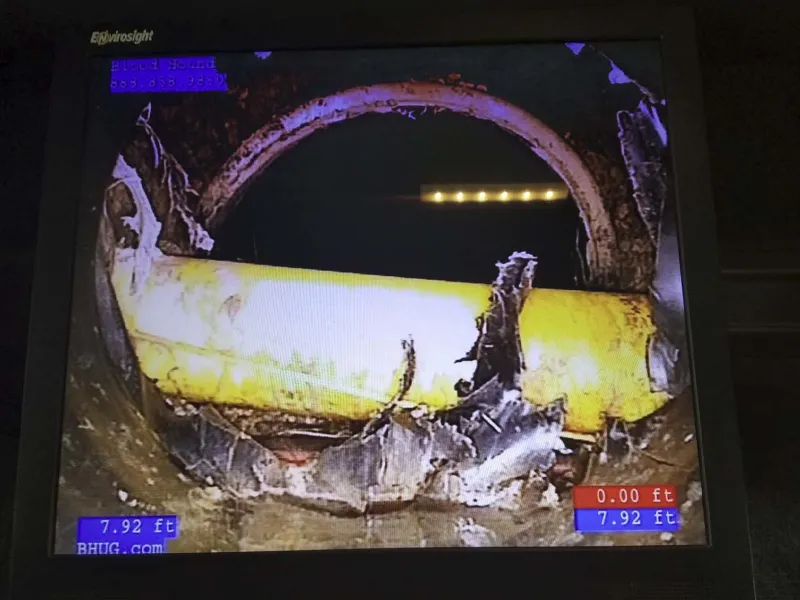 1
Real-Time
Real-time visual confirmation of line integrity and/or obstructions allows you to quickly make decisions to promote safer, more efficient solutions on your projects.
2
Precision GPS
GPS technology allows us to pinpoint areas of immediate concern with extreme accuracy. Equally valuable are the observations we make along the way - and the opportunity to truly optimize your integrity management plan.
3
Risk Management
Complete visual deliverables, including video footage and still shots, offer a layer of protection when performing excavation near sewer lines, providing real-time visual proof of line conditions, prior to digging.
Field Reports

Complete Record of Findings
Field reports provide complete performance details regarding the description, procedures, results and conclusions technicians record during your project.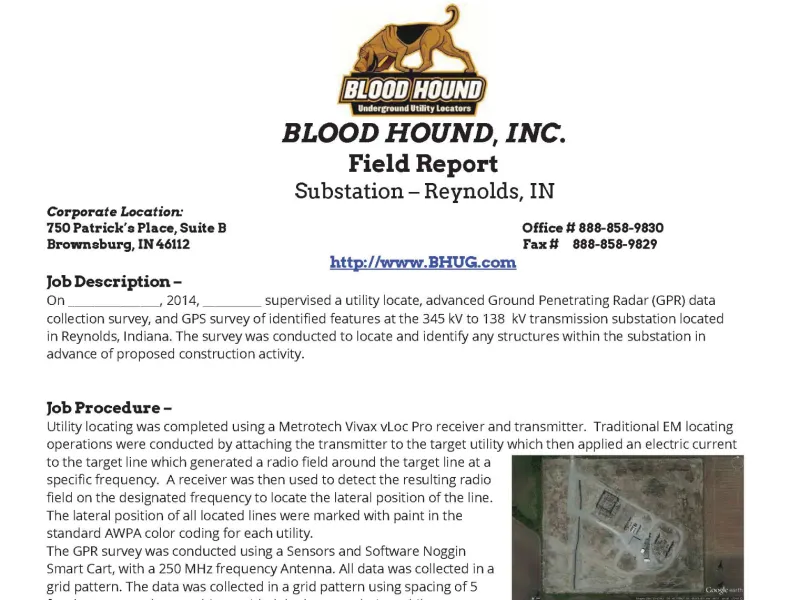 1
Consolidated Information
Technicians detail every aspect of your project in a single, comprehensive report. This includes site photos and maps with notations to reiterate key findings on your site.
2
Consultation
Our technicians and account managers work together to ensure that you and your team have access to, understand and are equipped to make educated decisions when it comes to managing your facilities.
3
Accessibility
The Blood Hound Client Portal makes it easy to locate and manage key data from the services we perform for you.
Blood Hound Client Portal
Get Easy, Immediate Access to Your Project Data